Ocular muscles of the human eye vision system.
This short video demonstrates how the eye muscles work together to move the eye. Get my new (May 2013) interactive book on your iPad, http://itun.es/i6xT3Yf …
Ocular muscles and the actions of the eyes
Ocular muscles of the human eye vision system are fascinating to study, here is a short animated video with the actions of the ocular muscles moving the eyes. Watch this short video prepared and presented to you on the YouTube channel.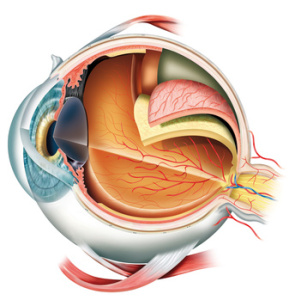 Actions of the eyes by the ocular muscles
There are four muscles per eye that move the eyes up and down, and side to side.
Names of three muscles are:
Medial rectus.
Inferior Oblique
Superior Oblique
Lateral Rectus
Superior Rectus
Inferior Rectus.
Ocular muscles do need a special attention to make sure they line up the eyes accurately, if one eye is just slightly out of line the result will be a blurred vision or double vision. The ocular muscles need to line up both eye precisely on the focused object so that the visible object is seen as one singular object. Learn more on how to take care of your eye vision for life, visit this link now.
Ocular muscles contraction and relaxation
Four of the ocular muscles control the movement of the eye in the four cardinal directions: up, down, left and right. Ocular muscles contract and the opposite side muscles relax at the same time, enabling a synchronization of the eye movement. See video for clear presentation of the eye movements.
Essential nutrients for the eye vision
Essential nutrients are necessary for a healthy eye vision, similar all other biological systems of the human body they need a constant supply of life-giving nutrients.  Essential nutrients for the eye vision are also manufactured into a supplement form. health eating habits ensure that the body receives all of the necessary nutrients that all of the eleven biological organ systems need.